Inflatable Water Slide Rentals
Water Slide Rentals are an exciting way for every child to heat up their party rental and cool off on a hot day! These inflatable water slide rentals are designed for any age, gender and come in all sizes, shapes, and colors.
Nevertheless, if you prefer an inflatable slide instead of a water experience, then Temple Bounce House Rentals has a perfect replacement. Get ready to party or enjoy in our dry slides all day long. We are a full-service party and event rental company. It is a dedicated go-to place that delivers, set-ups, and picks up each water slide rental in their different sizes or bounce house unit for an experience that is created only for you! Besides having a big enough space to set a customize fun area for you, we will as well deliver your water at a competitive price. We will always call to confirm your Temple Bounce House Rentals request the day before and give you a delivery window.
At Temple Bounce House Rentals, we pride ourselves on exceptional customer services for any inflatable unit we offer our party clients! Making each of your events spectacular and a memorable rental experience from start to finish is our priority. We have invested in a large large range of slide units to provide all that our customers needs, and each water slide and jump house unit is of standard, well maintained and frequently cleaned to ensure the kids' safety. Temple Bounce House Rentals is fully insured to provide you a worry-free rental experience. We are a leading Water Slide Rentals with fully trained staff. We operate based on tons of experience and therefore understand exactly what fun kids want to have.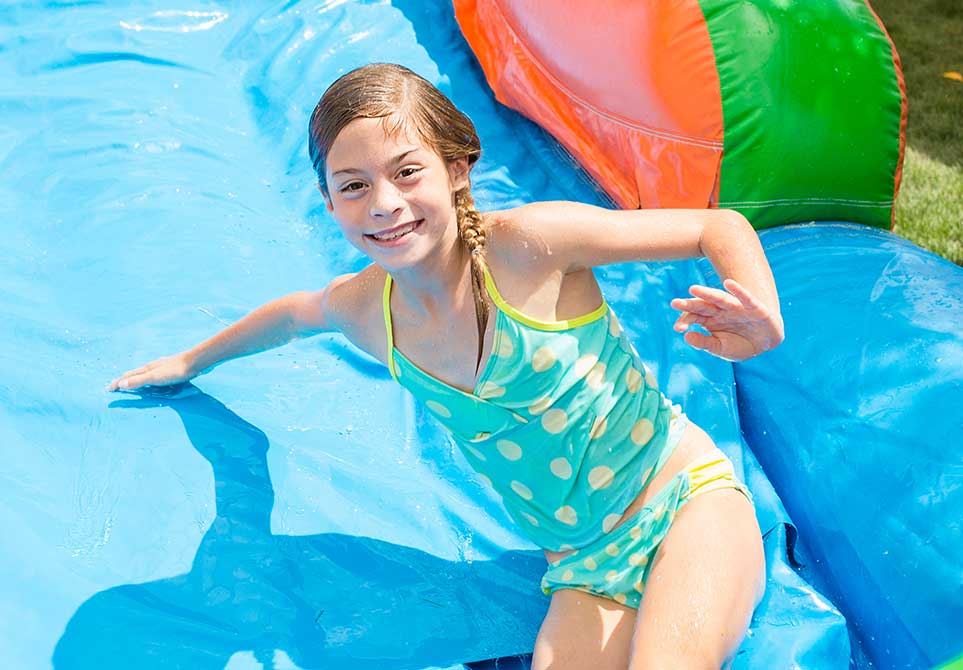 We set up memorable parties for your kids. Beating the heat, capturing the imagination, right to adding splash fun, are among the top most exciting fun times every child wants to experience using no feature other than the Water Slide Rentals we offer for your child's summer birthday party. Temple Bounce House Rentals' Inflatable Water Slide Rentals come in various shapes sizes and colors
Small & Large Water Slide Rentals
Beside its budget flexibility, accommodating parties and events of all sizes, there is an achievement we are generally proud of. We can also hold a grand event with dozens of people or even less. However big your event is, we have enough slides to fit all your guests.
Cheap Water Slides for Rent
First off, the quality of the water slides is our focus, and that is the first aspect we offer customers. Then comes, affordability. Our competitive water slide prices make our products easily accessible no matter your budget.
Water Slide Combos
If deciding between a bounce house and a slide is difficult for your kid, then give them both. Both are a double portion of exploding fun. Temple Bounce House Rentals' bounce house waterslide rentals offer fun in a single location but twofold.
Important Information About Water Slide Rental
Do not contact others. Slides above 20 ft in height are only suitable for adults.
Inflatable slides release air from the stitches every time. Inflatable slides are unlike like sealed up airtight balloons. It's normal for air to be coming out from the balloons.
Inflatable water slide rental is prune to damage if they come in contact with any surrounding surfaces such as walls, trees, fences, or the roof.
Do you want your child's birthday party wild, wet and memorable to every kid in attendance? We are how to make that happen. Our office runs seven days a week from 9 am – 9 pm
Temple Bounce House Rentals
1610 S. 3rd st. #108
Temple, TX
254-870-1535
Schedule
Mon / Sunday 9:00am – 9:00pm